Best Free VR App Reviews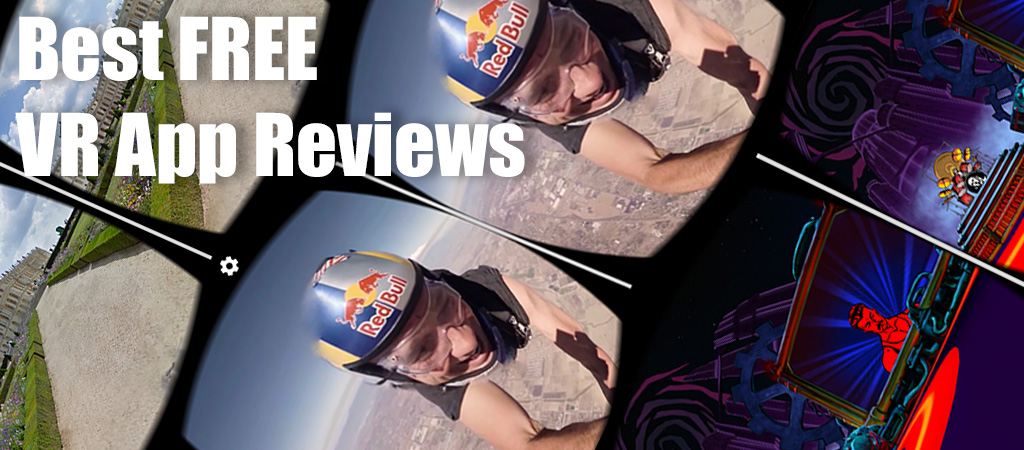 Once you have your smartphone-based VR headset ready to go, it's time for you to get out there and explore the dazzling VR realm! Fortunately, there are literally thousands of free virtual reality apps for you to download and play. However, some developers are better than others at utilizing the deft power and potential of virtual reality.  To make life easier, I've tried and tested many of the popular free VR apps out there. Check out my review for the best free VR apps below!
1.) Cardboard
The Google Cardboard app is the best place to start your VR adventure. When you first access the Google Cardboard app, you'll learn all about the basics like how to navigate and the different types of things you can do in VR thanks to the app's visually immersive VR tutorials. When you first start your VR journey, you'll find yourself downloading numerous VR apps and it'll be a bit cumbersome finding all said apps in your phone's directory. Well, the Google Cardboard app automatically recognizes, organizes and displays all of your VR-related content in one central library. This is extremely convenient. The cardboard app also comes loaded with VR-ready goodies like Google Earth VR, VR Street View, a VR photo viewer and 360 Video channels. The Google Cardboard is a must-have for all VR beginners.
Grab  the Google Cardboard app for yourself.
2.) Youtube
Video-streaming behemoth, Youtube is a more than fitting home for brand new VR experiences. Youtube literally features every kind of VR video you can think of and plenty you haven't. There's a plethora of exciting 360 degree VR videos from all around the world. Leave your passport at home and effortlessly transport yourself to the frosty mountaintops of Everest. Experience the hustle and bustle of an outside market in Vietnam. Take in the brilliant opulence of Vatican City. Walk the Wall of China. There's even high throttle VR experiences that really make use of the first-person perspective like surfing, race car driving, and even base jumping. From high-wire thrills to immersive short films, documentaries, hot air balloon rides and music videos that you can step inside – there's really no limiting factor when it comes to dynamic VR videos. All Youtube VR-enabled videos are easily playable on any VR headset with just the touch of a button.
3.) VaR's VR player
VaR's VR player is an extremely powerful yet simple to use player for all your VR needs. It grants you complete control over VR and 3D videos, supporting all video formats and featuring all the display parameters you can think of. Customize and optimize your VR video watching with choices like stereoscopic side-by-side, stacked view, 180 and 360 (panoramic and non-panoramic) and much more. For being a free VR player, the VaR's VR player is pretty much infallible, offering perfect head tracking responsiveness, all manner of lens focusing, color adjustments, brightness adjustments, and more. It also allows for regular 2D video watching. This is a must-download for people who are looking for easy customization with their VR videos.
See what you can do with VaR's VR Video Player
4.) Sisters VR
Sisters VR is a horror simulator and it's scary as hell. This was my first time trying out a horror-based VR app and I truly underestimated how spooky it would be. After you fasten your VR headset to your face, it becomes immediately clear that Sisters VR is not going to be that warm and fuzzy roller-coaster experience. I found myself seated on a ratty couch staring around a sparse, pallid room with a lone, beat-up television broadcasting static. Thanks to 3D stereoscopic sound, I heard ominous rustling and creaking sounds all around me. I'm only seconds into it but I already feel extremely anxious and a feeling of pure dread in my gut. With VR, you can't just hide behind a pillow. Willing or not, you're very much a participant. I turn to scan my environment and that's when the first jump scare hits me.
Out of nowhere, only mere centimeters from my virtual face, a ghostly little Ringu girl suddenly flails her arms at me accompanied by an unearthly howling. I feel my heart jump right in my throat. I lift the headset up to get a comforting dose of reality because I'm legitimately scared to turn my head again in VR. Sisters VR is a great demo that more than adequately showcases how terrifying virtual reality can be. It's fun to play yourself but even more fun to watch your friends' scaredy cat reactions. Sisters was developed by Otherworld Interactive and is rated T for teen.
Be afraid of Sisters VR
5.) Fulldive VR
One major irk I had playing with VR apps is the constant need to take out my smartphone to start up another VR app or game. Fulldrive VR gives you total and complete freedom to access any VR app, browse the internet and visit VR quick links by just using your headset's capacitive button and moving your head around to select what you want without ever having to remove your headset. Fulldrive VR even boasts its own full-blown user community. After creating your account, you can like VR videos, leave comments and engage in forum discussion. However, upon closer inspection, a big downside is that several of the VR links simply do not work. Fulldrive VR would be worth a look if the developers can iron out these wrinkles.
Achieve VR greatness with Fulldive VR
6.) Within
Within is one of the most talked-about VR companies when it comes to short films, documentaries and even SNL comedy featurettes. Within is known for having prestigious partnerships with The New York Times, NBC, VICE, United Nations, U2, TOMS, Apple, among others to produce and distribute VR experiences. From the thoughtful "Notes on Blindness" short film to the fun, animated Ethan Hawke-voiced "Invasion", Within is staking the claim as the progressive, thinking man's VR platform with a few of their films even being recognized by the Sundance Film Festival. If you're looking for truly meaningful and cinematic VR journeys, there's plenty to be found in Within. This platform is rated T for teen.
Sample Within VR now.
7.) Jaunt VR
Jaunt VR offers a bevy of exhilarating VR experiences from an astounding NASA tour to immersive film featurettes like "Rogue One: Behind the Scenes." There's even a dedicated ongoing VR drama series, "The Invisible" whose first pilot episode is helmed by "Bourne Identity" director, Doug Liman. Jaunt VR's main attraction is its exciting library of top notch VR content that impresses on a technical level as well giving VR users that immersive "wow" factor. No matter who you are, Jaunt VR has a wealth of interesting, crowd-pleasing VR adventures that are suitable for anyone.
Be amazed by Jaunt VR
8.) GoPro VR
The GoPro is the preferred weapon of choice for chronicling the adventures of today's intrepid thrill seekers. The GoPro camera is perfectly suited for catching high-wire action shots like skydiving, underwater tours, landscape exploration and more. It's also perfect for entertainment purposes like capturing the best moments from popular EDM concerts and festivals like Coachella. The GoPro VR app lets you explore a multitude of frenetic and immersive 360 degree videos with ease. Ride on ATVs in the Mohave Desert. Surf gargantuan waves in Tahiti. The possibilities are as exciting as they are endless. GoPro VR also lets you set up and access your GoPro account as well as uploading your own videos from your GoPro camera.
Learn more about GoPro VR
9.) Bohemian Rhapsody Experience
The Bohemian Rhapsody Experience is a spectacular interpretation of probably one of the most well-known rock songs of all time. This is a must-have for any Queen fan or any music aficionado for that matter. From the moment when you don your virtual reality headset, you'll be drenched in a psychedelic world of vibrant colors and breath-taking animations. Imagine a music video that you can step into and marvel in 360 degree awestruck wonder. Colors explode like confetti as Freddie Mercury's immortal lyric really come alive in this playful kaleidoscope of roaring visuals and hallucinatory stimuli. It's a short, sweet and thoroughly fun and soaring experience. This one-of-a-kind experience is rated E for everyone.
Get the Bohemian Rhapsody Experience for something unique.
10.) Public Speaking VR
It's widely known that public speaking is a number one fear among pretty much everyone. This ingenious VR app is the perfect way of getting used to engaging in public speaking in a wide array of settings. You can select from scenarios like class rooms, board meetings, conference rooms and more. Curb your social anxiety by practicing in front of animated audiences. Prep yourself for that nerve-wracking job interview by answering unique questions relevant to your field. Learn pro tips on public speaking and body language by watching helpful VR video tutorials. Public Speaking VR is an ultra-effective and confident way to practice and prepare yourself for any live speaking engagement. Highly recommended for any professional.
Visit the Google Play store for Public Speaking VR
11.) Inside Abbey Road
For the uninitiated, Abbey Road Studios is a legendary recording studio located in London, England that is most notable for producing fabled albums from super groups like The Beatles, Pink Floyd, the Hollies and others. Inside Abbey Road VR takes you on a crisp VR tour of the venue itself, giving you in-depth knowledge of Abbey Road's historic value as well as showing you spectacular panoramas of the studio itself. Even though it's virtual, one really gets that similar "museum" feeling of standing in the presence of greatness when touring this iconic venue. This free VR app is a must-have for all classic rock lovers.
Enjoy a piece of music history with Inside Abby Road
12.) Cardboard Camera
Cardboard Camera allows users to take 360 VR photos with their phone's native camera. Here's how it works. When taking a VR photo, the user will be asked to slowly rotate around 360 degrees and Cardboard Camera will handle stitching it together. This process takes seconds and after that, the user can share VR photos with their friends. Users even have the ability to put audio to their VR photos. While the pictures aren't perfect, Cardboard Camera still gets the point across and is still a fun and novel way to show your friends and family your immersive 3D panoramas.
Enjoy a new perspective with Cardboard Camera
13.) Coastility
Coastility is a VR experience app that is broken down into two sections: Coasters and Events. The Coasters section boasts many different types of VR thrill rides like the "360 Swiss bob run" and even features popular theme park rides in VR like haunted houses. The two sections overlap several of their VR experiences due to a lack of content. Coastility would be more fun but the truth is, there's just not very much to do with such a limited VR catalog.